National Wealth Center Signup Process
Tuesday, March 3rd, 2015 at 5:47 am
 National Wealth Center Signup Process?
Although National Wealth Center provides you with instructions when you log into your back office, I'm still continuously receiving tons of emails from new members saying there having a hard time joining because their still lost and do not know where to go to signup at so I made this page with a step-by-step video that will help you through your signup process.
The most important thing you should know is you will not become active member until you have paid your $25 membership fee. The $25 membership fee has to be paid every month to This Program and your sponsor will receive 100% of that commission monthly. There is also $19.95 Admin Fee that has to be paid monthly as well.
Everything in this program is going to work the same exact way for you but however you need to be a paying active member to start earning any commissions, Which is really critical. the $25 membership fee is paid directly to your sponsor through their payment processors, which can be anything from LinkPoint, Payza, (Paypal) to a few credit card processors that the company offers you to use also when you signup.
Why is it important to signup with The National Wealth Center?
If your recruiting people in the National Wealth Center without being a paid member, you will not earn any money from those sales and the commissions will be passed up directly to your sponsor, So just watch the video below to get a clear understanding on how the signup process works.
 The National Wealth Center Signup Process Tutorial:
The National Wealth Center Signup Process breakdown:
1.Visit the website of the sponsor you would like to join or ask them for there link (Join My Team Here)
2. Click on the green 'Start Now' tab at the top
3. Fill out your information
4.Now you should be logged into your account scroll down to you see a link that says 'Click here to make your payments' (Just like how it's shown below):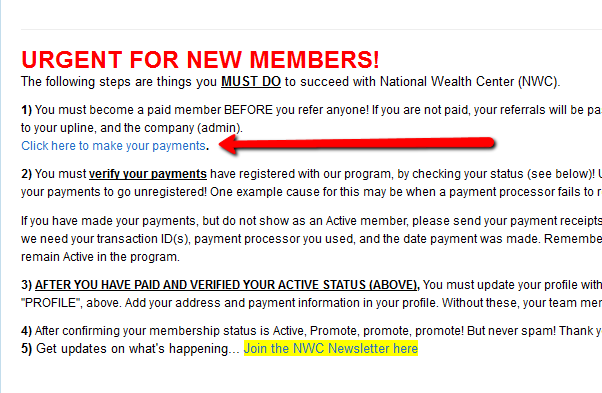 5. Ok now click on the 'Click here to active this program' link that you see on the payment page (you need to join the $25 Self Development to become active member in the national wealth center, also there are higher levels to join if you want to)
Step 6: as the example shown below shows you 'Click the link to be direct to my payment page so you can become active member: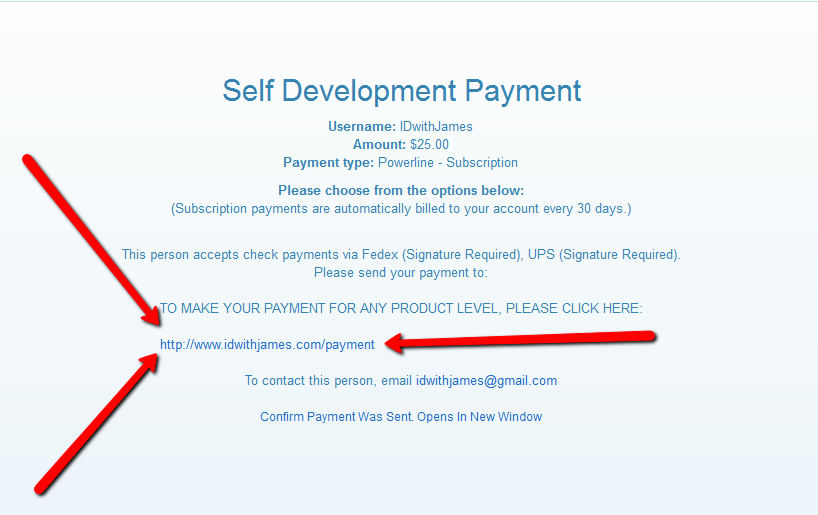 7. you will be given directions to follow to make your $25 transaction into my Paypal account 
Side Note: (Soon as I receive a notification email I will be sending you a username, password in a link to our team training website with bonuses so make sure you check your email) 
Great! you have become active member and your ready to start earning money! 
If you're ready to Take Action please click on the button images below to join now in also call me or send me an email and I will be glad to answer any questions that you may have (my information is below).
To Your Success,
Daquarie Williams
772.302.4619
daquariequantaviuswilliams@gmail.com
www.daquariewilliams.com
National Wealth Center Click Here
Tagged with: national wealth center • National Wealth Center Signup
Filed under: National Wealth Center Signup Process
Like this post? Subscribe to my RSS feed and get loads more!